Archive for September, 2010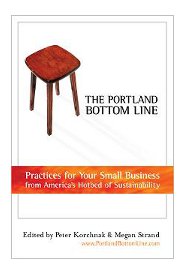 The Portland Bottom Line (Out in November 2010)
Edited by Peter Korchnak and Megan Strand.
Description: A collaborative exploration of how small businesses can effectively and efficiently shift toward sustainability and thrive. Fifty-one small-business people from Portland, Oregon, share their experiences with implementing sustainable practices in their companies.
Mercy Corps Northwest was selected by the book contributors to benefit from the book's profits. We are honored to be connected to such a dynamic and important project.
We will be posting more news and updates as the release date approaches.
Click here to learn more about the book
Read about the selection of Mercy Corps NW as beneficiary of the book
Again, we express a heartfelt Thank You to the contributors of "The Portland Bottom Line"!
EcoDistricts Summit is a conference in Portland, Oregon on October 25-27th, 2010 built to deepen public understanding of the EcoDistricts Initiative and to connect stakeholders and practitioners involved with pilot programs through annual progress updates and shared lessons in the deployment of integrated district-scale sustainability. Attendees will gain the following:
A forum for inspiring and activating conversations about next generation urban sustainability at the district scale
Elevate the conversation about neighborhood sustainability best practices and to stay informed about progress of Portlands EcoDistrict Initiative
Deepen the conversation about integrated performance assessment, neighborhood leadership, green building, infrastructure, and behavior practices to reduce resource consumption, new sources and structures for project finance, and green neighborhood rating systems
Unite urban sustainability practitioners working at this scale.
When |           Tuesday, October 25-27th, 2010 | 8:00-5:00pm
Where |          Portland State University | Smith Center, 3rd Floor, 1825 SW Broadway Portland, OR 97201
Who |            Planners, architects, engineers, developers, municipalities, businesses, pilot district stakeholders, engaged citizens, and labor
Visit |             http://www.ecodistrictssummit.com
Name: Charlene Wesler
Business: The Gaufre Gourmet
Involved In: IDA Program, Foundations Class
What inspired you to get started with your business? I love food!  The last eight years I have worked as a catering chef.  A major event of domestic violence in 2008 left me a single mom of three kids.  In early 2009 I lost my job.  Finding another job in this economy proved difficult so I took the opportunity to enroll at PSU to finish my degree in business.  It seemed like this was the time to follow my dream of owning my own business.  This is the time and place for food carts, people love them!  The potential was there for me to support my family while doing what I love, so most of this year I have spent perfecting my liege waffle recipe and developing the idea of a food cart as a way to create an income with a business that fit with  my life and priorities.  I hope to be a success story for other women in my position.  A portion of my profits will be donated to a local domestic violence charity.
What stage are you at in the process?
My business plan is complete and I am in the process of completing the cart. Opening day will be late September or early October.
What's been a recent success for you?
My most recent success has been acquiring a loan for the remaining startup costs.
What are you working on improving?
I am working on getting my name out there and educating people on the deliciousness of the leige style waffle!
What are you looking forward to?
I am looking forward to seeing peoples smiling faces when they take a bite of these awesome waffles!
How can folks contact you about your work?
I can be reached at gaufregourmet [at] hotmail [dot] com