Posts Tagged 'small business'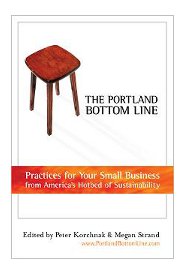 The Portland Bottom Line (Out in November 2010)
Edited by Peter Korchnak and Megan Strand.
Description: A collaborative exploration of how small businesses can effectively and efficiently shift toward sustainability and thrive. Fifty-one small-business people from Portland, Oregon, share their experiences with implementing sustainable practices in their companies.
Mercy Corps Northwest was selected by the book contributors to benefit from the book's profits. We are honored to be connected to such a dynamic and important project.
We will be posting more news and updates as the release date approaches.
Click here to learn more about the book
Read about the selection of Mercy Corps NW as beneficiary of the book
Again, we express a heartfelt Thank You to the contributors of "The Portland Bottom Line"!