Posts Tagged 'portland'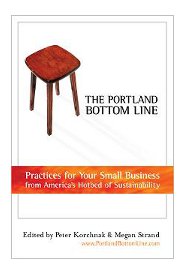 The Portland Bottom Line (Out in November 2010)
Edited by Peter Korchnak and Megan Strand.
Description: A collaborative exploration of how small businesses can effectively and efficiently shift toward sustainability and thrive. Fifty-one small-business people from Portland, Oregon, share their experiences with implementing sustainable practices in their companies.
Mercy Corps Northwest was selected by the book contributors to benefit from the book's profits. We are honored to be connected to such a dynamic and important project.
We will be posting more news and updates as the release date approaches.
Click here to learn more about the book
Read about the selection of Mercy Corps NW as beneficiary of the book
Again, we express a heartfelt Thank You to the contributors of "The Portland Bottom Line"!
Portland Business People:
The Portland Plan is underway. It will be Portland's strategic plan – a road map for the next 25 years, guiding our direction as the city grows and changes. We face some real challenges, and our response to those challenges will create the Portland of 2035 — the city of our children and grandchildren. Information about the Portland Plan can be found on the web at www.pdxplan.com.
We Want Your Opinion! We've spent the last nine months reaching out to the broad community to find out where we're at and where we want to go as a city. While we have spoken to a lot of people, we still desire to hear more from Portland's diverse communities. We are continuing our outreach and feedback opportunities this summer by specifically asking communities who have been historically under-represented in civic processes to weigh-in by completing a Phase 2 Portland Plan survey. We want to hear from members of Portland's ethnic or minority business associations and entrepreneurs, and hope you will take time to complete the survey: http://www.portlandonline.com/portlandplan/index.cfm?c=52540&.
We also hope that you will forward this note to other members of your organizations so that we may gather their opinions as well. The deadline for completing the survey is August 13, 2010.
Over the coming months we will be using feedback from Phase 2 to develop targeted strategies as part of Phase 3 of the Portland Plan process. We expect to have public meetings in early 2011 to discuss the strategies.

For more information about the Portland Plan, please contact Barry Manning (barry.manning@portlandoregon.gov; 503-823-7965) or Marty Stockton (marty.stockton@portlandoregon.gov; 503-823-2041).
Thanks for taking time to complete the Portland Plan survey. We hope you will stay involved.